On January 14, 2023, Chris Green, the Business Development Manager of Diverse Trainers, embarked on an incredible adventure to Tanzania, Africa, to conquer one of the world's highest peaks, Mount Kilimanjaro. Chris, who has completed his Level 3 Gym Instructor & Personal Training Diploma and Level 4 Nutrition for Weight Management & Athletic Performance courses through Diverse Trainers, used his extensive knowledge and experience to create a personalised training program that would prepare him for the challenging trek ahead.
Over the next seven days, Chris and his team of two guides and seventeen porters journeyed through the rugged terrain, unforgiving weather, and high altitude, overcoming obstacles and pushing themselves to their limits.
A Journey to the Summit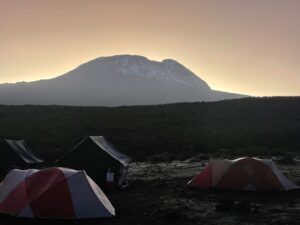 Mount Kilimanjaro is known for its diverse climate zones, which change dramatically as climbers ascend to higher altitudes. The mountain has five distinct climate zones, each with its own unique weather patterns, and vegetation. As a consequence, Chris had to pack enough kit for walking in temperatures from 25 degrees to minus 25 degrees.
Day one commenced at Londorossi Gate, situated 2,250 metres above sea level, where the team embarked on their ascent towards the first campsite, Shirai Camp, located at 3,610 metres. The team encountered freezing temperatures that plummeted to minus 10 degrees Celsius, providing a sobering reminder that the journey ahead would not be easy.
On day two, the team proceeded towards Shira 2 camp at 3,850 metres, where they encountered the initial signs of altitude sickness, such as shortness of breath, headaches, and pins and needles in their hands. Chris and his team were required to walk slowly and take frequent breaks to adjust to the high altitude.
The challenge persisted on day three as the team ascended to Lava Tower at 4,600 metres and then descended to Barranco Camp at 3,900 metres. Chris and his team encountered physical and mental challenges, leading them to question their ability to reach the summit.
On day four, the team climbed the Branco Wall, a sheer cliff face that posed physical and mental challenges. After an arduous day of hiking, the team arrived at Karanga Camp, situated at 3,995 metres. The guides conducted oxygen level checks thrice a day, ensuring that the team had sufficient oxygen to continue their journey.
Day five marked the start of the summit push, as the team proceeded towards Barafu camp at 4,673 metres, their base camp before the final ascent. Chris and his team rested before their summit push at 11:30 pm, donning as many layers as possible to shield themselves from the extreme cold.
Day six was the day of the summit climb. The team began their ascent at night, walking through the darkness with head torches and walking poles. After a gruelling climb, Chris and his team reached the summit at 7:10 am, at an elevation of 5,985 metres above sea level. The view from the top was awe-inspiring, and Chris experienced an incredible sense of accomplishment and pride.
The Importance of Proper Training for Climbing Kilimanjaro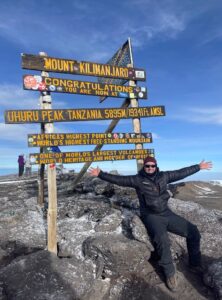 Chris and his team had made it to the summit, but the journey was far from over – the team had to descend and return to base camp, where they rested for a couple of hours before proceeding to High Camp at 3,950 metres. After 17 hours of hiking, Chris and his team were exhausted but elated with their remarkable accomplishment.
On the final day, Chris and his team made their way back to the park entrance, feeling fatigued, relieved, and proud of their achievement. The journey had not only tested their physical limits but also their mental fortitude, perseverance, and determination.
"Proper training is essential before embarking on a challenge like climbing Mount Kilimanjaro. Without adequate preparation, the physical and mental demands of the climb can quickly become overwhelming," Chris said.
Chris Green's remarkable climb up Kilimanjaro is a testament to the human spirit's resilience, strength, and willingness to surpass their limits. His journey serves as an inspiration to others, demonstrating that hard work, dedication, and self-belief can lead to success. Diverse Trainers' courses played a pivotal role in preparing Chris for his trek, which contributed to his successful accomplishment of scaling one of the world's highest peaks.
"As a member of the team at Diverse Trainers, I can attest to the quality and effectiveness of our courses in preparing individuals for physical challenges like climbing Mount Kilimanjaro. Our programs are designed to provide a deep understanding of health and fitness, ensuring that our students are well-equipped to create personalised training plans that meet their specific needs and goals," Chris concluded.